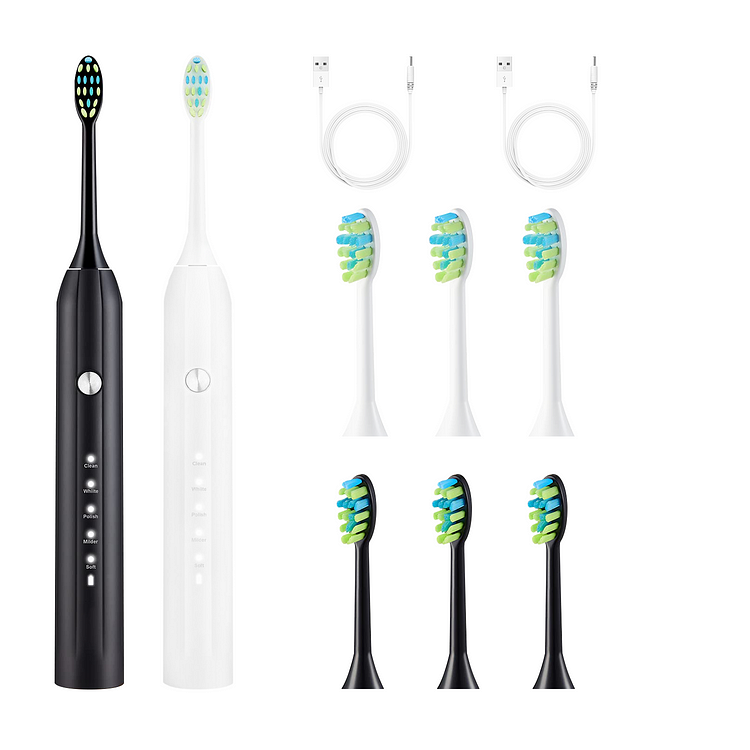 Sodentist Sonic Electric Toothbrush 5 Smart Modes
You can choose different modes according to your preferences and the dentist's recommendations
Clean
Suitable for daily dental care.
Whiten
Cleaning without dead ends.
Polish
Buffs and brightens teeth.
Milder
Softly massages teeth and gums.
Soft
Gentle for sensitive teeth and gums.
What's Inside
2 Electric Toothbrush + 2 USB Charging Cable
Waterproof body with ergonomic feel and no-slip handle.
4 Black Brush Heads +4 White Brush Heads
Each brush head lasts 3 months, so 8 heads will last for about one year for a couple.
10 x More Plaque Removal
Unlike other electric toothbrushes, Sodentist houses a patented sonic technology. Its head vibrates at 31,000 movements a minute which is 10x more powerful and effective at cleaning, putting it leagues.
Large Brush Head
More Surfaces, More Efficient
DuPont Round-Tips Soft Bristles
Made of nylon for extra durability, provide a superior clean
Tapered Soft Antibacterial Bristles
Longer bristles at the top, and bottom and shorter in the middle, specially designed to brush the hard-to-reach areas, such as the sides and backs of your molars
Long Standby Period
Powered by a rechargeable lithium battery, it can last 30-60 days. Best electric toothbrush for travel.
Help Build Good Habits
Sodentist has a 2-minute timer and a 30-second zone change reminder to help you brush for the 2 minutes recommended by your dentist and to ensure you brush all 4 quadrants of your teeth.
Discover the Sodentist Sonic Electric Toothbrush, the best toothbrush for sensitive gums! Our advanced technology gently cleans and protects delicate gum tissue while deep cleaning your teeth. The compact and lightweight design makes it the ideal travel electric toothbrush to spark your smile on your next adventure. The unique toothbrush heads are perfect for those with braces, ensuring a thorough clean around brackets and wires. Elevate your oral care routine with our state-of-the-art sonic electric toothbrushes!