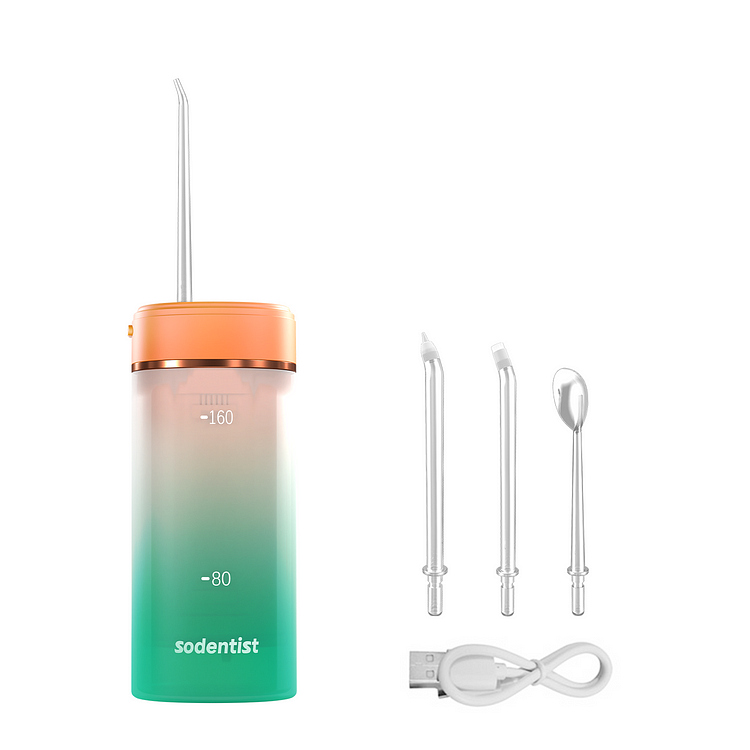 0.8mm Nozzle Diameter
The XY02 water flosser uses flexible high-frequency pulses and precise water flow pressure control to reach deep into oral crevices and blind spots. This effective method efficiently removes interdental and gumline food debris and plaque.
Portable Design for Travel
When folded, this device is roughly the size of a phone, easily fitting into bags, luggage, or even a pocket. It's ideal for use at the office, gym, home, or while traveling for business or leisure.
Product Specifics
Rated power: 6.5W

Rated input: 5V

Water tank capacity: 160ML

Water proof grade: IPX7

Charging port: TYPE-C

Charging time: 3h
4 Advanced Pressure Modes
Soft mode: perfect for sensitive teeth and beginners.

Powerful mode: massage gums.

Pulse mode: effectively clean.

Jog mode: deep clean teeth&brace.
While the device is charging, the indicator light will pulse in a rhythm similar to breathing. Once fully charged, the light will remain steadily on. If the device's voltage is low, it will signal this with a slow, 10-second flash as a reminder.
XY02 water flosser includes a rechargeable lithium-ion battery, so please ensure it is disposed of correctly, either through recycling or proper disposal methods. Additionally, our packaging is made from materials that can be recycled.
Easy to Use
1. Install the nozzle
2. Open the water tank, open the water inlet, and add water
3. Send the nozzle into the inlet and press the switch to start use
4.Regular cleaning: plug the water tank box and clean the water tank
4 High-Performance Nozzles At Yout Disposal
Standard Nozzle
For thorough tight spaces between teeth clean
Orthodontics Nozzle
To easily combat any brace-associated clean problems
Periodontal Pocket Nozzle
To achieve healthier gums in 2 weeks
Tongue Scraping Nozzle
For even fresher breath